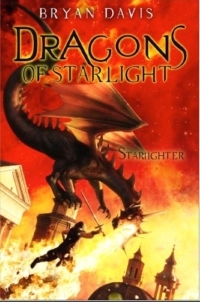 You can find my review of this book
here.
Dragons are enslaving humankind and a black egg signals the end of the world. Jason Masters must journey to another realm and join forces with a slave girl named Koren to rescue the captives and save two worlds from destruction. What if the Legends Are True? Jason Masters doubted the myths: people taken through a portal to another realm and enslaved by dragons. But when his brother is taken, he must uncover the truth and find the portal before it's too late. Once he's through the portal, he meets Koren, a slave in the dragons' realm, who struggles to destroy a black egg prophesied to doom all mankind. Jason and Koren must work together to save their two worlds before the dragons learn that their secrets have been discovered.
I will be giving away a
SIGNED
copy of Starlighter! Unlike my other giveaway(s) you do not have to be a follower. There is only one requirement, and that is simply filling out the form below. However, for extra entries, you can comment on some of my reviews and my interview. The deadline to enter is September 14th.