Dragons. When someone thinks about that word, that
species
people immediately think of fantasy. Dragons seem to be one of the hugest things that fantasy books have in common. Let's take a few of the most prominent fantasy books popular today and in the past. JRR Tolkien's Lord of the Rings which we all know in love, uses dragons relatively small amounts of times, but when he
did
use dragons, such as in
The Hobbit
they play a major role. So we can check that one off as a yes, they do have dragons.
Next, the
Inheritance
series, one of the biggest secular fantasy series out there right now, uses dragons. The entire idea is crafted around dragons. So, obviously we can check this one off as a yes, they do have dragons.
Now, let's move to one from the Christian YA Fantasy genre. For this example I'll use a series that is probably the most obvious of all these...
Dragons in Our Midst
series. This series is about the sons and daughters of dragons that were turned into humans and regular humans. So as the title suggests, this series passes off as a yes, they do have dragons.
There are
many
more examples, but that would take a while. So, now to the point of this post
Why
are dragons such a huge player in fantasy genres? Is it because the readers just absolutely love dragons? I think that's part of the reason, but I don't think that alone is the reason. Could it be that dragons
are
the fantasy genre? As in, they brought it up, they were the reason people liked it. Well, no. Going on the basis that mythology, in a way, was the original fantasy theory/thingy (which is another whole post worth of discussion) than dragons did play a big role in bringing up fantasy, since a lot of the myths were based of dragons and serpents and stuff(you can tell I'm not well read in my Greek mythology). But while they were a major role in bringing it up, dragons did not bring up the fantasy genre.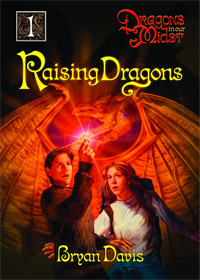 So, while they're many other things that could be the reason, I think that it is much deeper, Biblical even.
Why Biblical
I'm sure you're wondering. Well, it's hard to say I think, especially since this theory is just came to me. But if you look back at Scripture, satan was many times portrayed as a dragon. And while I'm not sure this directly influences our view of dragons and while they're major in fantasy, it does cause some speculation, which is what I'm doing. I think that since the original 'bad guy' was portrayed as a dragon, us authors, trying to be like the original Author, like to make dragons simply because they have a natural evil feel to them.
Now, where that idea is just completely obliterated is because many authors such as Paolini and Bryan Davis portray their dragons as very good species, in a way, the hero of the story. But I think this theory still deserves more thought. I'm going to think on that and possibly do another post later on about that theory.