FANTASY, Part Three, Dwarves
(Bombur from The Hobbit[animated])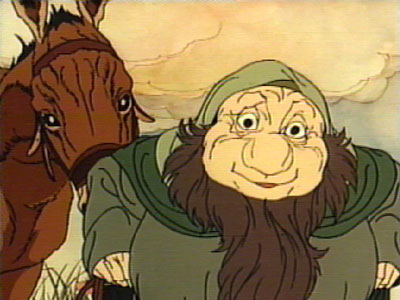 Dwarves. Usually that word brings an image of a short, fat, often bald, long bearded, man figure. Much like the image to the right. However, what many people that are not well read in fantasy is how cool dwarves really are. Again, though this isn't the best way to do it, and I will try to avoid it, this will be very much like Tolkien's dwarves. The way I'm going to try to diverse it from Tolkien is by looking at Tolkien's Dwarves, and then looking at Dwarves in general.
I'm going to look into a few main points.
Tolkien's Dwarves
Dwarves in General Fantasy
(Gloin from The Hobbit and the
Lord of the Rings, film version)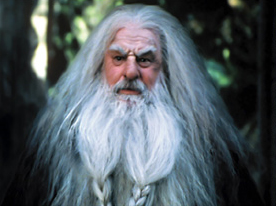 Tolkien Dwarves. Tolkien's dwarves have a very rich culture I'd say. Not rich in an elegant type of way, but simply the depth that is their history. [
Warning!
Small recap of Tolkien Dwarf history ahead] So, without getting too deep in Tolkien history I'll say this. In Tolkien's world the Elves were the firstborn, men, second born, Dwarves were not created by the God of that world(Eru), but rather one of the Vala[Valar] (somewhat like an angel) named Aule. Aule created them in secret because he was impatient to wait for the Elves to awake from their sleep. So, because they were not Eru's creation Aule had to put them into a deep slumber (note that I'm not going into the full story because that would take much longer) and await until after the elves and men had awakened to rise.
So that's a brief history of dwarves in Tolkiens works.
Now, on to dwarves in general fantasy. Dwarfs, in general fantasy have their own language. Actually, come to think of it, it seems that almost every fantasy race has its own language except for humans and hobbits etc. Anyway, the dwarven language in most fantasy is just plain gruff. Very rough speech, not elegant or enchanting like elves, but also not just some random chanting like goblin speech is (though I'm not altogether sure if they even have a language... I'll do some research and find that out during my post on goblins), it is not some random combination of letters. It's still a complex system of words and grammar that makes it unique from others. Dwarves in Tolkien's world are very protective of their language, very few, if any, outside of the dwarven race are permitted to learn it. In other fantasy works, while the dwarven language may not be
as
protective as Tolkiens dwarves, they are in general, pretty protective. Their language is not something they just let anybody gain knowledge of.
(a hammer is a common dwarven
weapon, although they would
usually not look like this example)
Also, while dwarfs generally are thought of as 'fat', that is a term which doesn't quite do the dwarfs justice. Because of dwarfs larger attributes they are better for it. Take for example, the differences between a dwarf and an elf. An elf is very lightweight, which allows them to be much swifter, and travel longer distances faster. However, a dwarf, being heavier in weight, they gain the ability of endurance. Their fighting styles are also much different because of this. Elves generally use thin swords and bow and arrows, while dwarves generally use. They are much more sturdy, their blows come slow but strong. But that phrase "...much more sturdy..." can be taken to every part of the dwarves culture. I'm not going to go into all of them though.
That's all for this post on dwarves.
Also, you may have noticed something different about the Narrowing Road. I'm experimenting with some new templates for this blog, expect some new ones every other day or so, and at the end of the week I'll post a poll that you can vote on to decide which template will be used for the Narrowing Road. This one is not completely finished, and neither will any this week, I will do the finishing touches after the poll is finished, thank you readers.